The Compliance and Investigations Practice Area Committee is made up of law firms and attorneys that have significant experience in government-initiated investigations and internal investigations. Member firms' investigation experience includes white collar defense as well as civil and quasi-criminal regulatory defense. Member firms also have experience in federal qui tam litigation and whistleblower litigation. The Compliance and Investigations PAC seeks to provide a resource for in-house counsel looking to work with NAMWOLF firms on white collar matters.
---
2023
Directory & Interactive Map
Your resource for finding vetted NAMWOLF firms in the right location and with the right skill set.
HOW TO USE THIS TOOL:
1) Look at the map and click on the name of any state that is filled in black to see first) a list of all of our firms with offices in that state and, second) lists of each firm's general compliance and investigations experience.
2) See a firm you like? Click on its logo to go to their profile page/s (located in the back of the PDF in alphabetical order) which contain more details on that firm's practice area expertise.
3) Want to learn more? Click on any firm's profile page/s to visit their website.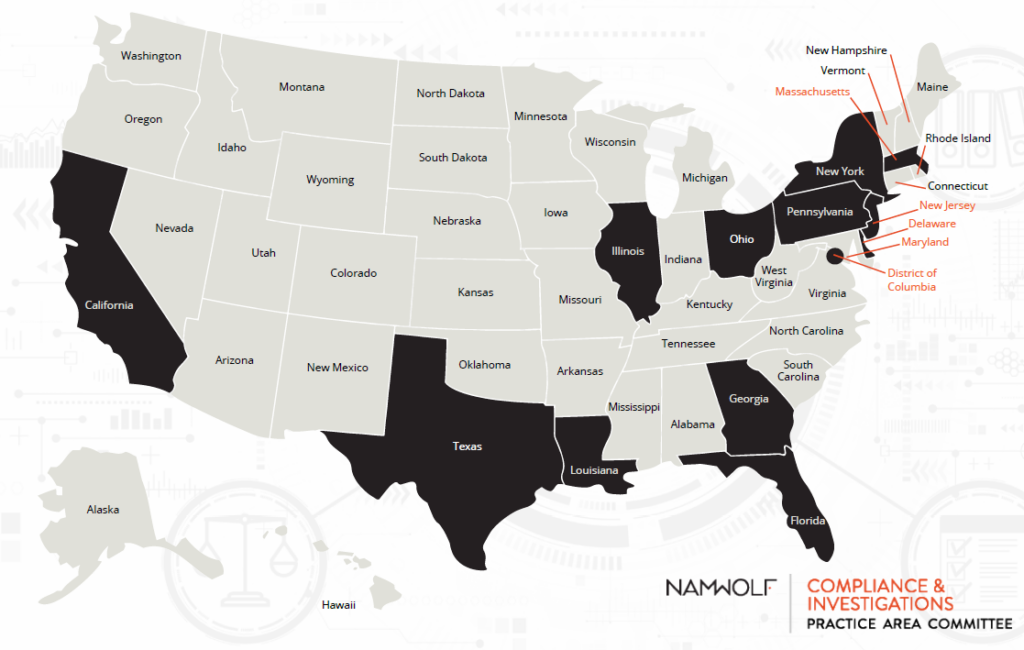 ---
PAC MEMBERS
(The "Go to PAC Forms Page"  button will take you to the page where Compliance & Investigations PAC members can submit their firm information and upload their firm logos and profile pages for Inclusion in the next draft of this PAC's marketing materials)

---
Committee Chairs