Willing to Act as Local Counsel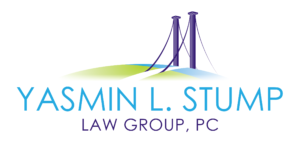 Yasmin L. Stump Law Group, PC (YLSLG) is a boutique law firm whose attorneys practice in the areas of real estate transactions and litigation, including eminent domain. The YLSLG legal team skillfully handles real estate matters and disputes in its representation of Fortune 500 and 1000 corporations, utility companies, universities, governmental entities, agencies and boards, small businesses and individuals throughout Indiana.
YLSLG offers legal services in the following areas:
Real Estate Acquisitions and Dispositions
Leases and Other Real Estate Contracts
Property Management
Real Estate Project Management
Title Examinations and Opinions
Easements and Rights-of-Way Enforcement
Land Use and Development
Building and Code Enforcement
Eminent Domain
Inverse Condemnation
Lease Disputes
Nuisances
Encroachment and Boundary Disputes
Quiet Title Actions
Real Estate Tort Actions
YLSLG's attorneys have exceptional experience in real estate transactions and litigation, including eminent domain.  The firm's attorneys have handled thousands of real estate cases and matters for clients, involving a diverse range of properties throughout Indiana, including:
Retail
Commercial
Industrial
Multi-family
Residential
Agricultural
Special use
Mixed-use
AROUND-THE-CLOCK RESPONSIVENESS
YLSLG understands the importance of client accessibility and addressing litigation and non-litigation matters quickly. The firm's team maintains:
Around-the-clock availability via email and telephone
Speedy and cost-effective representation
Flexibility and availability to ensure the firm's clients are consistently well-informed
FAMILIARITY WITH COURTS AND GOVERNMENTAL ENTITIES
YLSLG's attorneys practice throughout the entire state of Indiana and have comprehensive familiarity with the civil courts in Indiana's 92 counties. All the firm's attorneys grew up and have lived in Indiana-in the northern, central and southern parts of the state. Over the years, YLSLG has represented and worked with the State of Indiana and numerous counties, cities and towns and their boards and departments. YLSLG's work for and with these governmental entities has provided a rare opportunity for YLSLG to maintain strong relationships with governmental entities and their representatives throughout Indiana.
EXTENSIVE NETWORK OF REAL ESTATE INDUSTRY PROFESSIONALS
Yasmin and the YLSLG team have worked closely with a variety of industry professionals in thousands of client matters, as well as in professional organization activities, spanning almost 30 years. The YLSLG team understands that the relationships between and among these real estate industry professionals must be cultivated and maintained to achieve positive results for the firm's clients, and the firm prides itself on the strength of its ability to work well with other highly-competent and skilled industry professionals. YLSLG is able to recommend these industry professionals to its clients to assist them with their real estate cases and matters.
Engineers
Real estate appraisers
Business appraisers
Personal property appraisers
Surveyors
Title Companies
Real estate brokers
Land agents
Geologists
Hydrologists
Building inspectors
Other real estate industry professionals
Contact
Carmel, IN
Pennwood Office Park II, Suite 101, 11495 North Pennsylvania Street
Person of contact: Yasmin L. Stump