Willing to Act as Local Counsel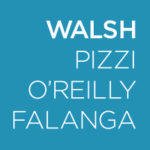 With decades of combined experience in litigation, compliance and transactional matters, Walsh is comprised of 29 dedicated, forward-thinking professionals. Walsh lawyers deliver high-quality, sophisticated legal services, with the personal attention and responsiveness more common to smaller organizations. Practice areas include business and commercial litigation, intellectual property litigation, trade secrets and employee mobility, class action defense, financial services and risk management with a focus on insolvency & creditors' rights, labor and employment, internal investigations, regulatory and public policy, insurance law and bad faith litigation, cyber security and data protection, special education, construction law, eDiscovery, appeals, transactional work, and mediation, arbitration & special master appointments.
As a majority women-owned business, certified by the Women's Business Enterprise National Council (WBENC) as a Women Business Enterprise (WBE) and by the National Association of Minority and Women Owned Law Firms (NAMWOLF), Walsh is focused on building a diverse and inclusive law firm of the highest caliber with a team of professionals dedicated to efficiently and effectively resolving multifaceted legal issues for our clients.
The firm has offices in Newark, NJ, New York, NY and Philadelphia, PA, and attorneys licensed to practice law in New Jersey, New York, Pennsylvania, Connecticut, and the District of Columbia.
Contact
Newark, NJ
Three Gateway Center, 100 Mulberry Street, 15th Floor
Person of contact: Liza M. Walsh, Tricia B. O'Reilly and Christine I. Gannon
New York, NY
140 Broadway, 46th Floor
Person of contact: Stephen V. Falanga and Tricia B. O'Reilly
Philadelphia, PA
1500 Market Street, 12th Floor
Person of contact: Peter J. Pizzi and Tricia B. O'Reilly