Willing to Act as Local Counsel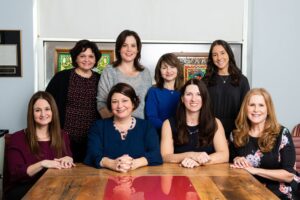 KSBranigan Law P.C. was founded in 2006 by Managing Partner Kirsten Scheurer Branigan. It is a woman-owned and woman-operated law firm and is a NAMWOLF member and WBENC certified. The firm focuses on employment compliance and alternative dispute resolution, and in particular on bias prevention and remediation through training, policies, workplace climate assessments, investigations, equal pay audits, and counseling as well as dispute resolution through mediation and arbitration. We help organizations foster safe, bias-free, respectful, and culturally competent environments, and build diverse and inclusive cultures where equality, mindfulness, and well-being are prioritized.
TRAINING & COACHING: Our training services include interactive group workshops and one-on-one coaching sessions, including on the following topics: harassment, discrimination, retaliation; unconscious bias; cultural awareness; civility and bystander intervention; generational differences; employment law compliance; cannabis law; reasonable accommodations; service animal awareness; diversity, equity, inclusion; mindfulness and well-being. Our investigation education includes a cutting-edge, full-day immersive investigation training workshop with an interactive three-act role-play demonstrating possible weaknesses in investigative processes.
INDEPENDENT INVESTIGATIONS & CONSULTING: Our investigation work includes conducting complex investigations that involve C-Suite executives and employees in legal, compliance, and human resources roles. We also help organizations create effective investigation practices and protocols by training their professionals and developing toolkits and playbooks to facilitate consistent investigation standards.
ALTERNATIVE DISPUTE RESOLUTION: Our attorneys serve as impartial neutrals in arbitrations and mediations to help parties resolve disputes, including through the American Arbitration Association (AAA). They have experience with complex multiparty matters and serve on a variety of AAA Arbitration Panels.
EQUAL PAY AUDITS: Our audit work involves conducting comprehensive equal pay audits and assisting organizations with navigating pay equity legal requirements.
EXPERT OPINIONS: Our expert witness services in employment cases include rendering expert opinion reports and testifying at trial, as to the effectiveness of investigations.
SECTORS & INDUSTRIES: The firm has provided services to a wide variety of industries, professions, fields, and sectors in New Jersey and on a national level. We have provided services to the private, public, academic, and non-profit sectors and to a wide range of organizations. We have worked with global/international, national, and domestic companies, including Fortune 500 companies. Industries have included: automotive; biochemical; communications; information technology; construction; cosmetics and beauty products; design; engineering; education; financial; food manufacturing and food services; health and fitness; health care, medical, and medical devices; insurance; legal; luxury goods; maintenance; manufacturing, and distribution; pharmaceutical; property management; publishing; and trucking and carriers.
OUR PROFESSIONALS: Our attorneys are seasoned professionals with an understanding of complex legal proceedings, employment law, and alternative dispute resolution. Our attorneys are recognized leaders and passionate advocates for diversity, equity, and inclusion in the legal profession, as well as attorney wellness. Our attorneys have been committed to addressing advancement and retention challenges of women lawyers for decades and recently helped launch a first-of-its-kind study in New Jersey.
Contact
Montclair, NJ
105 Grove St., #9
Person of contact: Kirsten Scheurer Branigan