Willing to Act as Local Counsel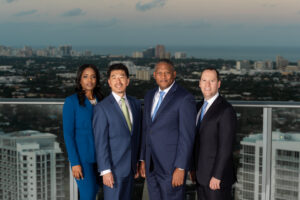 Kim Vaughan Lerner LLP ("KVL") has extensive experience litigating matters effectively in general commercial litigation, employment litigation, class action defense, insurance defense and arbitration. Our attorneys are intimately familiar with both the state and federal courts of Florida and have practiced in courts in several jurisdictions across the country. While an amicable resolution before trial is always preferable, KVL has demonstrated its ability to successfully take significant cases to jury verdict, bench trial, or final arbitral hearing. In just the last three years, KVL has taken eight cases to trial and one case to a final arbitral hearing. 
We are a "go-to" firm for high stakes litigation, for matters that may impact the highest levels of any business organization, or for matters that require the utmost discretion and confidentiality. We are routinely retained in these instances because of our ability to analyze a problem, offer practical advice and work with our clients to achieve desired results through efficient and effective case management and advocacy.  The firm's attorneys are highly regarded by their peers as demonstrated by their frequent mention in surveys of top Florida attorneys and in Chambers USA and Super Lawyers® . The firm is rated AV Preeminent® by Martindale-Hubbell, its highest rating possible.
KVL is passionately committed to diversity, with minorities comprising more than ninety percent of the firm's attorneys. Our lawyers share a deep commitment to the community as reflected in our extensive record of voluntary bar service, pro bono work, and community service.
Contact
Fort Lauderdale, FL
One Financial Plaza, Suite 2001, Fort Lauderdale, FL 33394
Person of contact: Jay Kim, Robert Vaughan, Brian Lerner, Cherine Valbrun