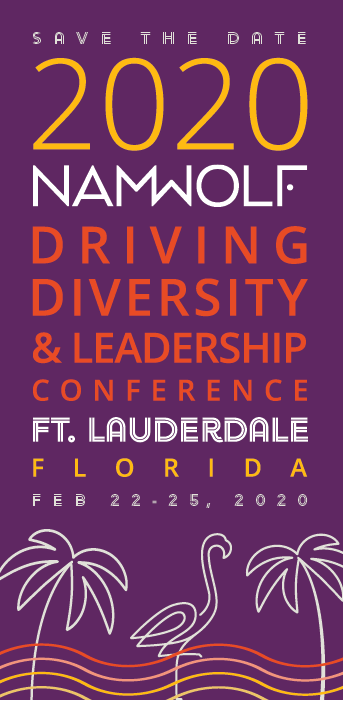 Event Agenda
Check out the CLE topics, featured speakers and networking opportunities lined up for this year's Driving Diversity and Leadership Conference in Fort Lauderdale.
---
Why Should I Attend?
The NAMWOLF Driving Diversity & Leadership Conference is a great opportunity to increase your participation and relationships with NAMWOLF Law Firm Members. On Saturday we kick off the event with a half day of programming for our Law Firm Members, focused on providing our firms with education to help develop and grow their businesses.
Sunday starts off with fantastic networking events; luncheon panel; and sessions to help law firm member and in-house counsel get the most out of their involvement with NAMWOLF.
Monday is focused on providing Continuing Legal Education for all attendees provided by NAMWOLF Practice Area Committees, which provide greater insight into each Law Firm Member's experience and capability to handle complex legal matters. The Driving Diversity & Leadership Conference also provides the opportunity to network with NAMWOLF Leadership, such as the Advisory Council and NAMWOLF Board of Directors. If you have never been to a NAMWOLF event, the Driving Diversity & Leadership Conference is the place to start!