2018 Annual Meeting & Law Firm Expo General Counsel Panelist
---
Thomas S. O'Neill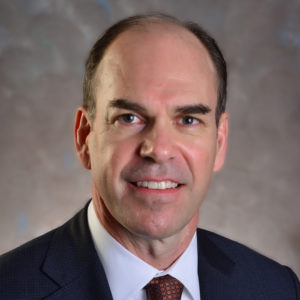 Thomas S. O'Neill
Executive Vice President & General Counsel | Exelon
Profile
O'Neill was named the company's senior vice president and general counsel in January 2017. He serves as the top legal advisor to Exelon's senior management and oversees the company's legal and corporate governance departments.
Professional History
O'Neill was formerly senior vice president, Energy and Regulatory Policy and General Counsel at Exelon utility ComEd, where he played a key role in the development and passage of both Illinois' Energy Infrastructure Modernization Act in 2011 and the Future Energy Jobs Act in 2016. Prior to that, O'Neill held leadership roles within Exelon including serving as senior vice president and Chief Operating Officer of Exelon Transmission Company. O'Neill was responsible for new business development initiatives within Exelon Generation. He oversaw development, construction, and the start-up of Exelon's 10MW demonstration solar plant on Chicago's South side. He also managed the formation and initial marketing efforts of Exelon Nuclear Partners, which markets Exelon Nuclear's operational expertise to international new-build and domestic turnaround customers. He was also the lead executive for the project to submit a construction and operating license (COL) to the U.S Nuclear Regulatory Commission for a dual-unit nuclear power plant in Texas.
Prior to joining Exelon in 2001, O'Neill was a partner with the law firm of Jenner & Block in Chicago.
Civic & Board Involvement
O'Neill serves on several not-for-profit boards: He is currently Board President of Christopher House, a 100-year old Chicago organization dedicated to assisting children and families in need through integrated social, educational and human services programs. He serves on the Board of the Legal Assistance Foundation, and on the Board of the Tony-award winning Lookingglass Theater in Chicago. He also sits in the Regional Board of the American Ireland Fund and on the Board of the Irish Fellowship Club of Chicago.
Education
O'Neill received his Bachelor of Arts degree, with honors, in English Language and Literature from the University of Illinois at Urbana Champaign and his law degree from University of Notre Dame Law School.